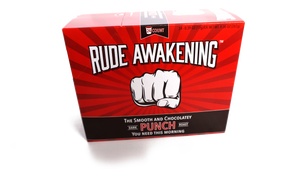 Rude Awakening High Caffeine K Cups by Elevate Coffee: Extra Caffeine with Extra Convenience
If you're like us, you need an extra boost of caffeine to wake up in the mornings—not another cup of weak, flavorless coffee. 
That's why we created Rude Awakening. 
Our Rude Awakening coffee blend is the smooth, chocolatey punch you need in the morning. Elevate now offers Rude Awakening in conveniently packaged K-Cups so that you can enjoy the delicious taste of Rude Awakening from your Keurig at home. 
What is Rude Awakening? 
Rude Awakening is a locally roasted, all-natural coffee. Here's what our customers love about Elevate Coffee's best-selling blend:
Delicious Taste – Enjoy the full body and smooth, chocolatey finish of Rude Awakening coffee. 
Perfect Blend – Rude Awakening is a dark roast coffee made from a carefully selected blend of all-natural, additive-free Colombian and Robusta beans. 
High Caffeine – Brew Rude Awakening for the extra punch you need in the morning. Rude Awakening has a high caffeine content and will keep you alert and energized throughout the day. 
Rude Awakening K-Cup Coffee 
Rude Awakening K-Cups make it more convenient than ever to enjoy Elevate Coffee's most popular blend at home. 
Our Rude Awakening K-Cups come with 2.0 single capsule packaging for your Keurig brewer to ensure optimum freshness levels. 
Benefits of K-Cup Coffee 
Keurig coffee has several advantages: 
Single Cup
Do you only need one cup of coffee in the mornings? K-Cups are the most convenient way to brew one cup of coffee at a time.
Fresh
Coffee quickly loses its freshness after you open the bag or container. K-Cups are individually sealed, so they remain fresher for longer.
Consistent
It's nearly impossible to measure the correct ratio of coffee to water to brew in your coffee pot. When you brew K-Cup coffee, you can be confident you are receiving a consistent cup of coffee every time.
Mess-free
Making coffee can be messy. When you brew K-Cup coffee, you automatically eliminate the water spills, coffee grounds, and other messes created with your coffee pot.
Convenient
Are you too busy to brew a pot of coffee in the mornings? K-Cups make it easy to enjoy fresh coffee at the touch of a button!
Why Choose Elevate Coffee? 
We understand how frustrating it is to buy an entire box of K-Cups, only to discover that the coffee is weak, flavorless, and unsatisfying.  
Rude Awakening by Elevate Coffee is the wakeup call you need. Enjoy the delicious flavor, extra caffeine content, and robust taste of Rude Awakening from the convenience of a K-Cup.
Not only will your coffee taste good, but it will make you feel good, too. Each time you order Rude Awakening K-Cups, Elevate donates a portion of your purchase to Water 4 Kids International, a nonprofit that drills deepwater wells in Africa.  
Don't wait to experience the smooth, chocolatey punch you need in the mornings. Enjoy Elevate Coffee's Rude Awakening K-Cups today!
---
106 comments